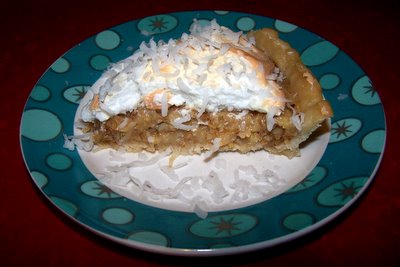 I've never made a real pie before...Unless you count those Jello no-bake cheese cake deals. So for yesterdays dessert, I decided to try out a recipe I found in an issue of 'Household' from 1950. Inside the front cover was a picture of a beautiful banana cream pie but as I read on I realized that there also was a recipe for COCONUT..yum. And unbelievably I had all the ingredients already, a first for me! Read all directions first.
*************************************
*Make a 9 in. Pie shell (recipe below).
*Mix in a saucepan....
2/3 cup sugar, 1/2 tsp salt, 2 1/2 tbsp cornstarch, 1 tbsp flour
. Stir in gradually
3 cups of milk
. Cook over moderate heat, stirring constantly, until mixture thickens and boils. Boil 1 minute. Remove from heat.
Stir at least 1 cup of the hot mixture slowly into
3 eggs
, that have been slightly beaten.
Then blend into hot mixture in saucepan. Boil 1 minute more, stirring constantly. Remove from heat. Blend in
1 tbsp butter
and
1 1/2 tsp vanilla
. Cool, stirring occasionally. Pour into baked pie shell. Chill thoroughly. Finish with a whipped topping or a meringue (which is what I did, recipe below). Seal meringue onto edge of crust to prevent shrinking. Swirl or pull up points to make decorative. Bake 8 minutes in moderately hot oven (400 degrees) until delicately browned. Let cool at room temp away from drafts. Serve as soon as cool.
For Coconut Cream Pie
:
Fold in
3/4 cup moist shredded coconut
just before pouring filling into pie shell. Sprinkle whipped topping or meringue topping with
1/4 cup shredded coconut
(toasted if desired
~not going there again !)
9 in. Pie shell recipe
:
Sift together
1 cup enriched flour, 1/2 tsp salt
. Cut in
1/3 cup shorting
, first cut in half of it until mixture looks like "meal"... Then cutting in the rest until particles are the size of giant peas. Sprinkle over mixture
2 tbsp water
...Mixing with fork to make dough stay together. Round up into ball. Roll out flat, place in pie pan, fold edge over or under to make collar. Prick thoroughly with fork it prevent puffing. Bake 8-10 minutes in very hot oven (475 degrees).
Meringue
:
Beat until frothy
3 eggs whites, 1/4 tsp. Cream of tartar
. Gradually beat in
6 tsp sugar
. Continue beating until mixture is stiff and glossy.
************************************************
As you can see, this recipe is full of all the really bad-for-you stuff, that means it's really tasty! This recipe also has many steps and I couldn't keep up too well with 'stirring constantly', therefore the 'cream' part is a little brown, but it was still yummy....Like toasted coconut without the house fire!