It seems it's required of us artsey craftsey types to do certain projects, like record bowls, marble magnets and altoid tin shrines. I've had this little shrine waiting to be finished for about a year now..Really sad. Well, I motivated myself to finish it up today so I would have something fun to post about, and I guess it's also Scrap Crafty as well. I did my little shrine about unusual vintage foods..Imagine that..ha ha , no real surprise there! I made it to look like a refrigerator with little magnets on the front.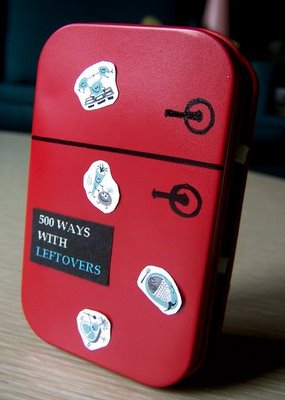 Then the inside has shelves and little plates of food. I want to be that lady in the shrine..I want to look like her, I want her figure, I want that dress and apron! (sigh!)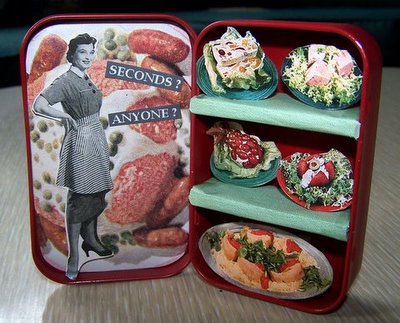 I got all of the images from old cookbooks and booklets and sized and color copied them at office depot. I put a magnet on the back so I can put it on the real fridge for display.
I do have a fairly large project I am working on this week, if it doesn't flop, I will post about it this weekend.