Dear readers, it's sad to say but it's true... there is no such thing as an original idea. I love to think I have them all the time but I found something last night that shot my hopes and dreams down. I honestly had it in my mind that I was going to get this idea patented and make millions......I was going to make the circuit and tour the country, no, make that the world!... I was going to be in demand and next big thing! My idea? The Drag Queen Cake...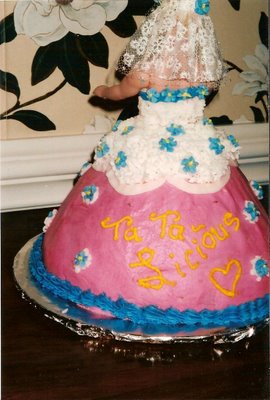 I discovered
this
last night..... Boo!!! I made "Ta-Ta Licious" about 2 years ago while I was at my mom's during her first shoulder surgery. She had a
cake pan
for making hoop skirt cakes for birthdays and wedding showers with girl tops and I didn't see why a man doll wouldn't enjoy wearing a frilly dress also. Ah well.... I guess I better get back to working on another idea that will just be pulled out from underneath me.
~UPDATE~ the "this" cake link apparently isn't working due to something going on over at craftster....