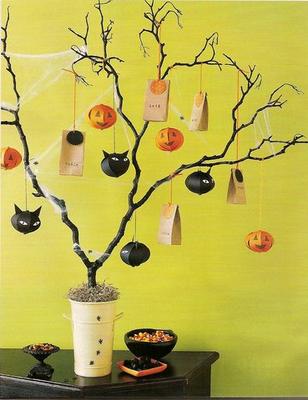 This idea is from the new edition of Martha Stewart's Kids magazine. If you already have the magazine sorry for giving out 'old news'. I think it is so clever! "For the tree, spray-paint a branch black; wedge into a flower bucket filled with rocks. Cover with Spanish moss, and stretch craft store cobwebs between branches."
For the cat and pumpkin ornaments make a template that looks like the image in #1 ( the magazine has a template but it looks fairly easy to do without it) Trace the image 7 times onto black construction paper.Cut out. Stack pieces (#2) and punch holes through both ends with a small hole punch; insert a black or orange paper fastener into each hole (the paper fastener they speak of is made of metal and has a round flat head and 2 thin metal tabs underneath, they are always used in kids crafts to make jointed paper people and creatures). Bend stack into a "C" shape (#3); and fan out like a globe. Glue on paper features to create the cat and pumpin faces.
Also shown on the tree are small craft paper goody bags with hand stamped names and matching tags.
Don't forget to add some spiders,as shown, for extra spookiness!