I got the recipe for these turnovers from the Good Housekeeping's Party Pie Book (copyright 1951)..One of the
cookbooklets
Sarah
sent me. Photo above from the cookbooklet of said crusties. Cover below.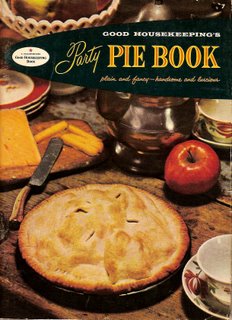 I thought the name was really funny and the recipe was simple. Plus I had everything on hand. Mine are pictured below.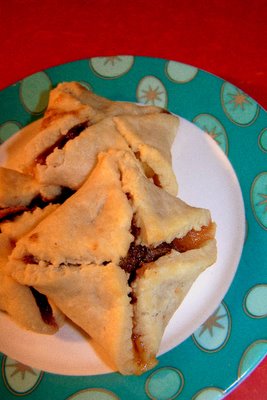 *******************************************************
Lunch-Box Pineapple Crusties
1/2 cup brown sugar,packed
1/2 teasp. cinnamon
3 tbsp soft butter or margarine
1 No. 2 can pineapple chunks
1 pkg. piecrust mix
1. Start heating oven to 425 degrees F. With fork, mix sugar with cinnamon, butter. Drain pineapple chunks well.
2. Make piecrust as label directs. Roll into 18x12 inch rectangle; cut into 3 inch squares. Lay 1 pineapple chunk in center; spinkle with sugar mixture.
3. Bring four corners of each square together to center; then press all edges together well. Brush with cream, if desired. Place on baking sheet; bake 10 minute., or until golden.
Makes 24 crusties.
The above recipe is given to you courtesy of 1951. We don't have #2 cans or powdered pie crust mixes that I know of anymore. I tried this recipe with 2 different piecrusts. One
homemade
and the other one of those premade deals in the refrigerator section next to the biscuits in the cool burst open tubes.
I liked the homemade one for the fact it didn't stick to the ungreased baking sheet. The prepackaged crust stuck like an SOB greased or not. The picture on here is from the homemade crust. But the homemade crust ones were a little drier than the prepackaged....So...You just do what you got to do.
*******************************************************
In other news, I might not be 'home' for the rest of the week. This Saturday I am going to be part of a Mardi Gras float and still have a costume to make. Then Pumkinbutt's birthday is next weekend. I haven't even got his invites made...I am soo behind. Luckily it's mostly family coming so I have already told them the when & where. The invites are really just me giving myself more to do so I can win that Mommy of the Year Tiara.
I do have my Second String swap stuff complete and ready to be sent out tomorrow though! I am soo glad I am done, I hope my partner likes it all. Once my gal gets her stuff, I will post pics of what I made and of course as soon as I get my goodies I'll put up pics. So lots going on around here. I want to send out a thank you to everyone for all their lovely comments they leave. Sorry I have been behind on responding to them and doing my normal 'blog hopping'. I need a clone and she would do all my cleaning and cover for me so I can sneak out for a cocktail!